Hi guys!! I just joined and am very excited to sock destash in 2008! I figured I might as well take some current pix of the sock stash ... I took some pix while the other half was shoveling snow so he didn't see the mass of yarn, ha ha.
I just ordered some Regia from Destash and 7 skeins of Opal Neon from LittleKnits (which is 60% off right now!!!) So with the added skeins I have enough to knit about 40 pairs of socks. I also love Knitpicks.....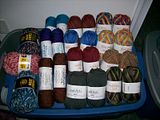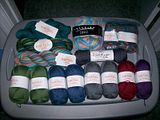 Good Luck to all the sock destashers in 2008!
(i just updated my blog after being updateless for months)